Student's Club & Activites
Institute with the purpose of providing opportunities to all the students to exhibit their hidden talent in different social, cultural and academic fields.
Doing Yoga with the students on International Yoga Day
All the lecture rooms are facilitated with audio visual equipments including LCD projectors, slide projectors, microphones, etc.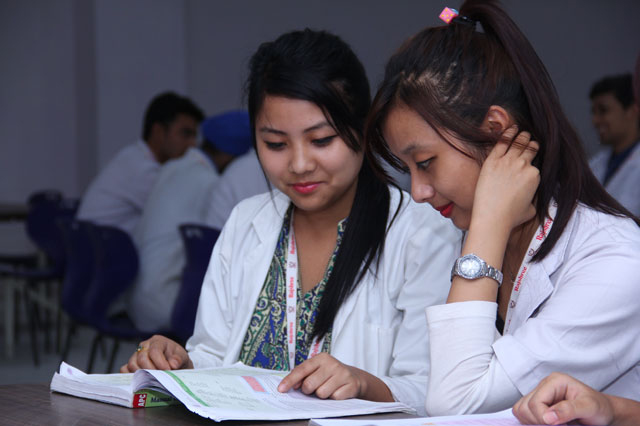 A collection of e-journals and e-books is available in digital library. A fully-equipped computer lab with internet facilities and spacious reading rooms with audio-visual aids are also a part of the library.
Well-designed two bed room flats with all the basic and modern facilities are provided for Sr Residents and Junior Residents. Quarters, with access to integrate common facilities like telephone, 24 hours electricity, continuous water supply, pure drinking water, etc.
Information Technology has become increasingly crucial for effective acquisition and dissemination of knowledge. Therefore, Computer professionals in RMRI are adopting best practices for integrating these technologies in support of teaching and learning.
Well-maintained cafeteria in RMRI serves hygienic food at reasonable rates. Students and staff members are provided with a choice of north Indian and south Indian cuisines. A separate canteen, adjacent to the hospital is also available for patients and caregivers.
The Institute arranges pick and drop facility, from all corners of the city  to the college and hospital, every hour for the staff, students, patients and their caregivers. Vehicles are available for the staff and students involved in community healthcare services.
Conferences, Seminars & Workshops
Medical conferences, seminars are supposed to fulfill a critically important role in the ongoing education of physicians, technicians, nurses, and other health care providers. Rajshree Institute organizes conference, workshops, seminars and symposiums regularly learning opportunities.
A Counseling Cell has been set up in Rajshree Medical Research Institute for the students who are unable to cope up with the pressure and tensions of stressful modern life. The cell also helps the students by providing valuable information about career options after their graduation.
Medical Research Institute Bareilly has set up a Grievance Redressal Cell to address the complaints and grievances of both the students and staff members. Complaints of students are resolved either by the Principal/Dean himself or with the help of Head of Departments and faculty members.
Awards, Prizes and Scholarships
At RMRI, a large number of students have proven their capabilities in academics, sports and other activities. They have secured top positions in their 1st, 2nd, 3rd professional University examinations conducted by MJP Rohilkhand University, Bareilly. Rajshree Institute awards brilliant students with scholarships as a token of appreciation for their achievements by Hon'ble Vice Chancellor, MJP Rohilkhand University, Bareilly.
The Rajshree Educational Trust has allocated some amount as 'Students Aid Fund' which is meant for financial help to the needy students.
At RMRI, Bank & ATM facility 
Those of us who are college veterans will never forget our freshman year at college. Some of us may like to forget our freshman year, but in general it is a time filled with anticipation, some anxiety, and wonderful discoveries.College is a lot different than high school. You may decide to commute from your home to a local campus. Your freshman experience will definitely make an impression on you.
Student Hostel and dining
The Institute provides separate hostels for male and female students with spacious, clean, and well-furnished living space. Basic furniture is provided but students may bring their own mattresses, pillows, bed linen and other items of personal use. The hostel mess serves hygienic and nutritious food in spacious dining hall. Round-the-clock security services ensure adequate safety to the inmates of the hostels.